InfraZamin to accelerate SDG5 with Pakistan's first 'AAA' rated Gender Bond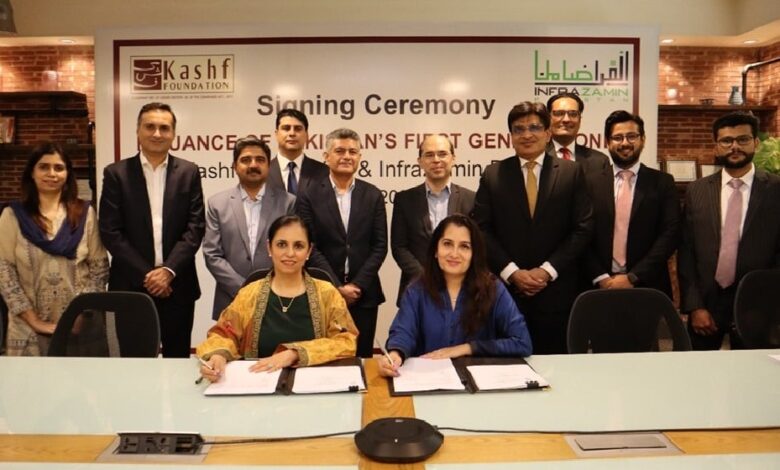 InfraZamin Pakistan, a licensed NBFI and credit guarantee provider, and Kashf Foundation, a licensed microfinance institution, have signed an agreement to bring Pakistan's first gender bond to institutional capital market investors. This is yet another example of the rising trend of sustainability projects.
Issue Size: Rs. 2.5 billion (inclusive of Rs. 500 million green-shoe option)
Tenor: 3-year period inclusive of 1-year grace.
Purpose: The proceeds from the bond issuance will be utilized by Kashf to provide micro-infrastructure finance loans to women-led businesses, home improvements, and rehabilitation of flood-affected homes and businesses. All loans are mandated to go toward women.
Classification as 'Gender Bond': This shall be the first gender bond issuance in Pakistan, following the guidelines prescribed by SECP.
IZP Guarantee Cover: 100% principle and 1x semi-annual interest installment.
Benefits of IZP guarantee: With the help of IZP guarantee, the bond will have a AAA credit rating and shall enable Kashf to tap into a diverse pool of investors through capital markets. Kashf will also benefit from an overall significant reduction in pricing/ spread, whereas the investors (mutual funds) will benefit as they are not taking a risk on Kashf but InfraZamin instead, which is an AAA-rated entity.
Why does this matter?
This is the first-of-its-kind gender-based bond issue in Pakistan directed towards supporting women-led businesses, women's general welfare, and overall gender equality. The primary objectives include:
development of the capital market,
enhance and diversify the investor base for Kashf to include mutual funds (historically high participation from banks);
supporting transactions to achieve financial close, market the bond issue and create awareness leading to future capital market transactions
Why is it a better option than commercial loans?
This opens up a new investor base for Kashf. The historical bond issue by Kashf was primarily subscribed to by banks. This solution leverages the capital market to address pressing social issues like gender inequality.
Who is the target audience?
Qualified Institutional Buyers (QIBs) are any persons notified by the Securities and Exchange Commission of Pakistan under section 66 of the Companies Act, 2017 as persons to whom an instrument of redeemable capital can be issued. This shall include mutual funds, pension funds, insurance companies, corporations, etc.
How will it impact Pakistan?
This is the first 'Gender Bond' issuance – we anticipate that it will
lead to the development of a local capital market to address pressing social issues such as gender equality,
set a precedent for more such transactions in the future, and shall streamline and improve the existing framework;
enhance financial inclusion for women from low-income households, encourage them to build their own businesses, and abandon the cycle of poverty. This will be overseen through InfraZamin's involvement in mobilizing this funding for Kashf.
result in Kashf Foundation giving out approx. 30,000 new micro-loans, each loan expected to create 1-2 new jobs. Therefore, this transaction shall lead to approx. 30,000 to 50,000 new jobs for women.
lead to micro-loans reaching high-impact areas such as women-entrepreneurship, upgradation of school facilities, and home improvements catering to the devastating impact of recent floods in rural areas.
How will this impact InfraZamin?
Capital market development is a crucial mandate of InfraZamin, whereby IZP strives to mobilize private sector investment and promote the credibility of the local capital markets.
Through this transaction, IZP seeks to leverage the capital market to address social issues such as gender inequality and financial inclusion.
The proposed transaction will be the first Gender Bond in Pakistan and shall open new avenues for capital market growth with innovative financial instruments aimed at addressing social, financial, and economic inequalities for women.
How will this impact Kashf?
We anticipate this will open up a new investor base for Kashf – as Kashf relies heavily on raising new funding.
Historical bond issue by Kashf was primarily subscribed by banks – Kashf's last issued TFC in 2019 was almost 90% subscribed by banks leading to the low diversity of investors.
Given now that InfraZamin's guarantee will back the proposed Instrument, it will enhance its credit rating to the maximum, i.e., AAA, thereby allowing enhanced participation from NBFCs (especially insurance companies and pension funds), thereby reducing the dependency on the banking sector and bringing in a diverse pool of investors.

Approx. 30,000 new micro-loans for women from low-income households are expected to create between 30k and 50k jobs. We expect this to enhance financial inclusion for women, encouraging them to build their own businesses and abandon the cycle of poverty.
"As a country that sits near the bottom of the Gender Equity Index, this transaction marks a significant leap forward in raising commercial capital directed to female empowerment and financial inclusion and represents an important milestone in the development and growth of the capital market," said Maheen Rahman, CEO of InfraZamin Pakistan. "This transaction also demonstrates the power of using guarantees and credit enhancement facilities to enable a crowding in of private institutional investment into private sector-led projects."
The proceeds will be utilized for economic empowerment and financial inclusion of women in Pakistan, which is essential for Pakistan's sustainable development.
"We are delighted that InfraZamin Pakistan is taking the lead in promoting private sector infrastructure projects and is acting as a Guarantor providing complete risk protection to bondholders of Kashf Foundation," said Shahid Ali Habib, CEO of Arif Habib Limited.
Kashf Foundation managing director Roshaneh Zafar expressed hope that this initiative will encourage other organizations and stakeholders to prioritize women's economic potential and aspirations.
"This transaction will open up new avenues for investors in the microfinance sector, particularly the Nonprofit MFIs," she said. "Kashf Foundation is hoping to work with a diverse universe of investors and provide them with the opportunities to indirectly support the agenda of financial inclusion in the country."