Tracker
The largest tech conference in Pakistan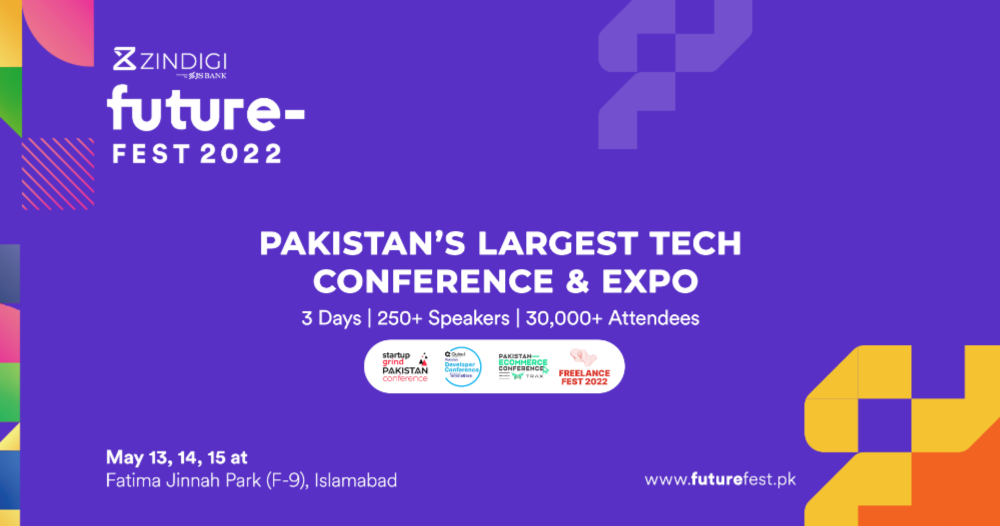 The largest tech conference Pakistan has ever seen is now happening in Islamabad from 13 to 15th of May! The event will showcase 4 different mega conferences which are:
Startup Grind Conference

eCommerce Conference

Developer Conference

FreelanceFest by PAFLA
With over 30,000 attendees, 250+ speakers,100+ Exhibitors, and 20+ events, Future Fest is for sure a must-visit for any tech enthusiast who wants to experience the latest happenings and developments in the Pakistani startup ecosystem.
The best part of this conference is its speakers Faisal Aftab, Co-Founder of Zayn Capital, Jehan Ara, Founder CEO of Katalyst labs, and Babar Khan Javed, Director of Public Affairs at Z2C Limited, and guess what the list goes on and on.
Things you can experience
Network with the top investors in the ecosystem, This is a perfect opportunity to present your startup to them and get your idea in front of investors who can help you with your vision.

Experience the pitch competition where the top 50 startups will pitch their companies! Talk about a real experience of learning and taking notes from multiple pitches which you can apply later on.

Experience the IoT village where some of the best solutions will be showcased.

Experience the featured keynotes, Panel discussions that talk about the trends and strategies which are essential to conquer the future.

Experience the pre-conference dinner which allows you to network with startup founders, industry leaders, and many more!
for more details visit: https://futurefest.pk/