A string of posts written by seasoned builders and Airlift Technologies employees on LinkedIn suggests that the instant delivery service is shutting down in Pakistan. As predicted by Faisal Aftab of Zayn Capital, incremental capital will be scarce until Federal Reserve cuts rates – usually with a six-month lag. He cautioned that any company with an investor's back should have a 12-18 month runway from today.
Unable to raise new funding and with dwindling unit economics, Airlift Technologies has closed shop and is in the process of structuring severance packages for its talent pool of over one thousand staff. Despite reaching representatives of Airlift Technologies, no comment was shared with Founder Pakistan by the offered deadline. Sources tell Founder Pakistan, The company is going to close shop completely within a week and all the employees are going to get two month's salary as compensation.
The news comes less than a month after Airlift Technologies announced the launch of an ancillary business division around platform intelligence. The new unit was meant to offer in-app advertising and platform visibility solutions to assist consumer goods companies with a winning q-commerce strategy. This may be similar to market murmurs suggesting that Retailo Technologies was seeking a data partnership.
Founded in 2019, Airlift Technologies started off as a ride-hailing service, attracting a claimed fifty thousand riders in its initial six months of operations. Following the lockdowns created by COVID-19 and the shift to remote work negating the need for a ride-hailing service, Airlift Technologies made the decision to pivot into q-commerce competing with Pandamart, QnE, GrocerApp, Daraz, Imtiaz, and Naheed's.
According to Crunchbase, the startup raised its last round of $85 million, Series B in August 2021 which included Harry Stebbings, the founder of 20VC  as the lead investor. Sources shared that funding intended for mid-2022 would have valued Airlift Technologies at over $1 billion, the first true Pakistan-based unicorn.
The company has a total headcount of 1,341 employees with 38% of it in operations. 1,100 of the total headcount is in Pakistan of which nearly, 80 are graduates of the University of Punjab, 60 are graduates of LUMS, 50 are from Karachi University, 45 are graduates of IBA, and  45 are from NUST. They are former employees of 10Pearls, Foodpanda, Abacus Consulting, Careem, Zong, Nestle, and Jazz.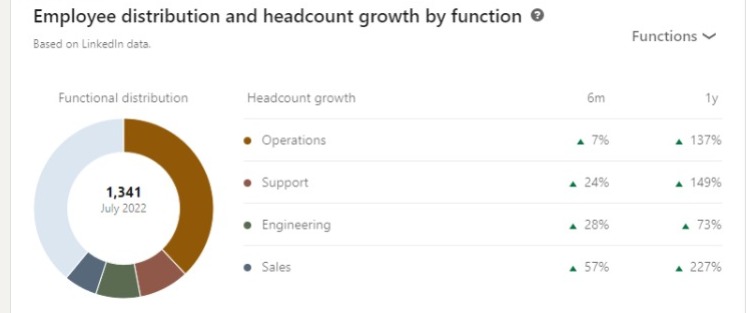 Data from the previous Airlift alumni database shows that around 47% of the sample size of 192 employees were a part of the operations team at Airlift when the startup decided to close down its operations in South Africa and non-performing cities in Pakistan.
According to previous alumni data, 51% of the employees were from Pakistan and around 49% were from South Africa in the previous layoff by Airlift technologies in May.
A trail of users also came to Twitter addressing their concerns about late deliveries and closure of services, replying to the tweets the response of Airlift Technologies was as follows:
Hi Faizan, Airlift express is currently undergoing a restructuring in response to the global downturn. We are adapting to the changing economic conditions but we are still committed to providing hassle-free services to all our customers. Our services are temporarily unavailabl…

— Airlift Pakistan (@airlift_pk) July 11, 2022
Meanwhile, companies with strong business fundamentals are growing and making top hires.