Tracker
Sifur by Sania hosts a pop-up exhibition at Colabs
Press Release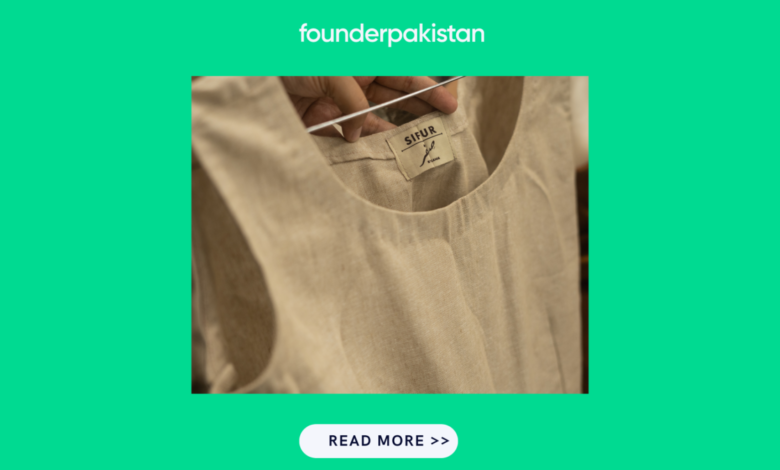 On the 15th of October, Sifur by Sania, a sustainable fashion start-up, hosted a pop-up exhibition to celebrate one year of meaningful fashion since its inception in 2021.
Held at the popular coworking space, COLABS, in Gulberg, the exhibition was attended by a number of fashionistas including social media influencer, Bihamaal Zurqa (popularly known as Baemisal on Instagram), artist/illustrator, Sarmad Hashmi, and more.
"I started Sifur in October 2021, with an attempt to share my love for slow fashion with pieces that one would love to wear over and over again," states Sania Asad Bhatti, the founder of Sifur. "My brand ethos is: simple, minimal, sustainable, and made to last. I also started custom sizing, because I do not believe that we are all bound to fit in 3 sizes that we see on the racks. Our bodies need suitable measurements and not sizes because we are all so unique and fashion is for everyone. My clothing is meant to speak to many, if not all, and I am so happy that I get to do this every day!"
A slow fashion brand that brings good quality and basic styling essentials to its clients, Sifur believes in recycling, ensuring that it wastes no fabric during the fabric-cutting process, apart from not using any plastic in its packaging procedures. The brand's focus is on 100% cotton pieces that are derived from sustainable and ethical sources within Pakistan.
From blouses, saris, jackets and more, Sifur's clothing is breezy, affordable and strikes just the right balance between an ethnic and contemporary aesthetic.
"I was always inspired by the work of local Pakistani artists and I always gravitate towards traditional methods like hand embroidery, block printing, and patchwork and just wanted to revive these art forms," says the founder. "Through Sifur, I make sure that I work with local craftspeople. I started supporting deserving and talented women and men who did not have an outlet to showcase their talents. I understand that people have reasons for being pulled towards fast fashion; because it's more accessible and affordable, besides don't we all become a part of that cycle of wanting more? But fast fashion doesn't last very long, and most importantly, it has an adverse effect on the environment." 
Featuring antique furniture, a gorgeous four-poster bed, lamps, and a lovely DIY corner to make block print tote bags, the exhibition space at COLABS was steeped in heritage. With live music by Afendee, a talented singer based in Lahore, the pop-up exhibition was a resounding success.
"I love taking inspiration from the mountains and landscapes from my travels and treks," Sania reveals, "I love using earthy color palettes and creating art with dyes and fabric. With Sifur, I hope I'm able to make ethical fashion accessible and celebrate our individuality and uniqueness."