Tracker
Sana Khalid joins as the new CEO of i2i
Featuring the deals of i2i Ventures in 2022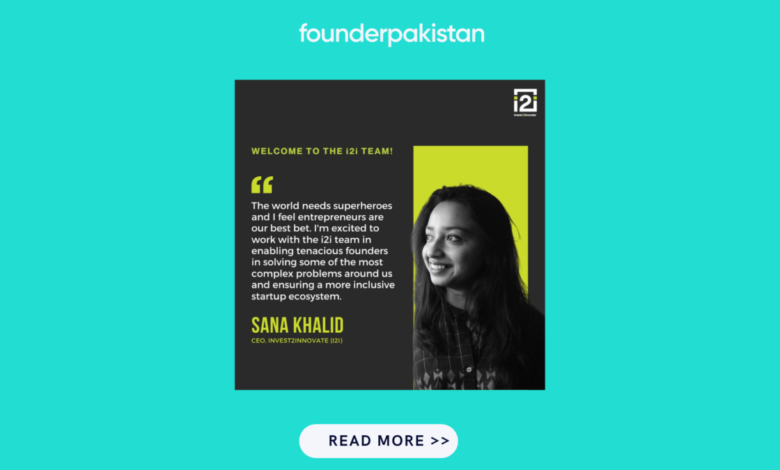 Sana Khalid has joined ecosystem builder Invest2Innovate as its new CEO. With a career spanning over 14+ years she has served multiple roles, she is the founder of Minerva Pakistan, a leadership development, capacity building, and recruitment firm, that has enabled thousands of individuals to find their way to stellar careers. She is also the founder of the National Digital Design Conference and has formerly served as the CEO of The Hive. 
"Next week, I will be joining the stellar team at Invest2Innovate (i2i) as their next CEO. i2i has been a leading ecosystem builder in the startup space for a decade now. I have seen Kalsoom translate her vision for a stronger and more inclusive startup ecosystem into reality and am truly inspired by what i2i has been able to achieve to enable and empower founders in frontier markets, specifically in Pakistan. Filling in the shoes of Kalsoom and Mehvish will not be easy but it is a challenge I am very excited to accept," Sana Khalid in a LinkedIn post announcing her new role.
"There are a lot of things that made saying yes to this role a no-brainer for me. Most importantly, after multiple conversations with Kalsoom and the i2i team over the course of the past few weeks, I first-hand experienced the thought and care that goes into the team, culture, products, and services that are being built at i2i. For me, the fact that everything is built around the 'people-first' approach was truly important," added Sana.
"i2i is already positioned as a leading ecosystem builder and I can't be more excited to lead the team into doing the important work they are set out to do. Meanwhile, I will continue to support my brilliant team at Minerva Pakistan led by Aleena and Sana Adil who are currently heads-down building a community of top design and tech talent – a place where the startup world can go to build their next dream team," added Sana.
Invest2Innovate is an ecosystem builder launched in 2011 by Kulsoom Lakhani, it is also a sister entity of i2i Ventures which was founded in 2019 by Misbah Naqvi and Kulsoom Lakhani. In 2022 as of the third quarter the firm has done 6 deals in Pakistan.
In 2022 the deals of i2i Ventures were as follows:
1- Truck it in
2- Metric app
3- Abhi
4- ezBike
5- Rider
6- Dealcart
The initial deal size of the firm is between 250k-500k, according to the firm's website they are sector agnostic and are excited to help solve large market opportunities in Pakistan.