Featured
The Agritech gateway to digitize the 24% of GDP in Pakistan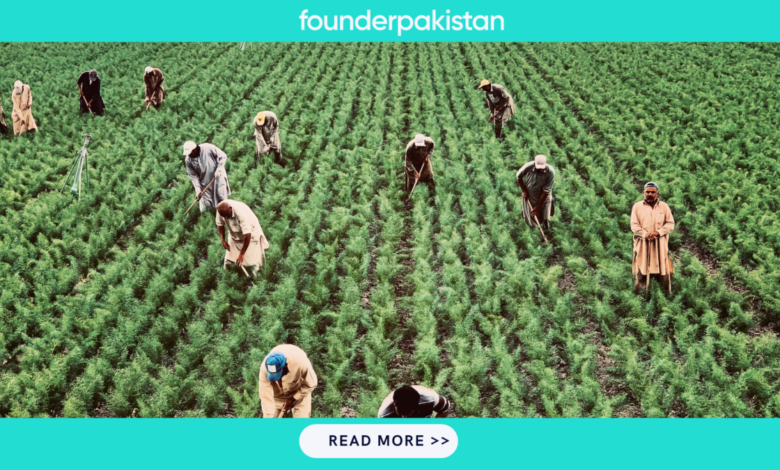 According to Market analysis, the global agritech sector will achieve a market cap of $45 billion by 2028 with an estimated Compound Annual Growth of 14%.
Advanced data collection and data analytics techniques are revolutionizing the way food and fiber commodities are produced, processed, and distributed across the globe but what does it mean by the integration of agriculture and technology?
For thousands of years, humans have trusted their intuition and experience when it comes to decision-making related to agriculture. What to sow, when and which nutrient needed to be applied in how much dosage, when and how much irrigation, or when to harvest the produce.
These may seem like trivial questions but they ultimately decide whether you are going to end up winning or losing after giving six months and everything else to a crop.
It eventually changed when Minnesota farmers started using soil sensors to measure organic carbon content in the 80s.
Since then and before, a myriad of companies has capitalized on the idea of perfecting the decision-making process in a space where unpredictable weather patterns and market forces are outpacing the ability of human cognition to evolve.
The fusion of agriculture, technology, and business is manifesting itself in various ways but primarily there are three levels of this fusion. First is just a partnership between conventional agriculture input producers and farmers through a digital channel that makes its money by connecting the two.
Secondly, we have precision agriculture which simply put is the data collection through satellites, drones, sensors, or other conventional laboratory and survey techniques, analyzing it through statistics, mathematics, and AI algorithm and devising the most suitable solutions and tools for the farming community.
Data can range from weather indicators, to crop health parameters, soil profile maps, and even livestock health assessments.
These solutions can be provided in the form of analysis followed by expert guidelines for example mapping areas according to relative fertility, carbon content, and water stress in a field, dividing that field into small management zones (SMZs) which are called site-specific crop management (SSCM) a concept introduced by John Schueller in early 90s at the University of Florida. 
In the third major approach, companies are capturing the eCommerce market connecting both b2b and b2c agribusinesses. Some companies like Instacart, US-based grocery delivery, and pickup services only connect the consumers to their nearest stores and deliver the products to their homes.
The last reported estimates in July put its market value at 14 billion $ which is still a lot despite recent slashes by investor groups(5). while some other ventures like Big Basket which operates in India act solely as a supermarket on their own for all fresh grocery items like fruits, vegetables, and grains.
Coming to Pakistan, companies are expanding to all the major avenues of the agritech sector. Farmdar is a major player in Pakistan's agritech sector which equips farmers with real-time crop health monitoring reports after putting the raw data collected through satellites into A. I processing. It also provides water stress and fertilizer requirement reports.
Farmdar has also been partnering with sugar mills and assisting them in accurately surveying the area under sugarcane. Growtech on the other hand is another venture aiming at a broad range of services from crop health monitoring reports, weather forecasting and alerts, farm record keeping & farm management assistance, and agriculture news.
Moreover, it also provides the opportunity for individuals to act as agents between Growtech and the farmer and make commissions along the way and that's not it. Growtech also partners with various financial institutions like banks and universities and provides farmers easy access to loans and technical assistance.
Concave Agri has also a vast range of operations from provident real-time crop advisory, a B2c eCommerce platform Kisaan Karobar, providing fresh fruits gathered from the farmers, and a separate eCommerce site Kisaan Dukan, for farmers to buy fertilizers, agrochemicals, Farm machinery, seeds, and irrigation systems.
It has also a separate platform called agrisense which focuses on collecting data related to agriculture like the distribution of resources over the whole country and seeking valuable insights and patterns. There are always challenges linked with the mass adoption of new technology as it's a whole new way of doing business.
The foremost obstacle in the way of agritech startups is the lack of technical literacy and trust among the farming community as despite the mass availability of smartphones, social media, and the internet, it's still challenging for a farmer to understand all of this and trust on an app update with everything he has got in his business. Industry actors need to project a lot more success stories and work on confidence building between them and farmers.
"We have to come to the farmer's level and way of understanding instead of expecting him to get digitally literate," stated the President of Concave Agri, Muhammad Ali Iqbal to Founder Pakistan.
When asked whether the affordability of these services is an issue in their mass adoption, he said that in this time of record-high inflation and floods, everyone in the industry is looking for survival and they tend to experiment with new ideas and technologies.
The majority of farmers may lack the learning required to comprehend the complexities of Agritech but that doesn't necessarily entail that they cannot see their benefit. "We cannot use technology as a silver bullet and expect farmers to adopt that but rather we have to project real-world success stories and show sustainable value addition on the ground," commented Shehryar Hydri, the Managing Partner at Deosai Ventures.
Growtech Founder and CEO, Mr. Faisal Bilal also stated something similar. "If we take the technology as technology to farmers, it won't generate any interest. Unless or until we reduce their costs and increase their profits through value addition," he said.
The government's role in this regard is also very important as any industry needs a favorable environment to flourish. There is no second opinion about the fact that Federal and Provincial Agriculture departments are not performing very well when it comes to equipping farmers with real-time weather forecasts, easy access to agri-advisory, farm monitoring, modern machinery, and financial assistance.
There is a reason that despite the rigorous (but unprepared) wheat campaign and subsidies provided on fertilizers, wheat production slumped 3.9 % in the last season of 2021-22 (7). Punjab agricultural department officials and academics admit themselves off the record that technical assistance e.g. soil testing provided by public research institutions is never accurate and authentic.
So, such agritech startups are not just a fancy dream, they are the need of the hour. As Muhammad Ali Iqbal from Concave Agri stated, "Government just acts as an enabler and is not supposed to do everything itself." What we expect from the government is that it will make such policies that will empower these startups to do more and also make it easier for farmers to access these services.
"We may start to see a shift of conventional subsidies from fertilizer and farm machinery, toward these advance agritech solutions," stated Shehryar Hydri.
Government policies are also pivotal in developing our rural communities said Faisal Bilal who also highlighted the need for finances, manpower, and awareness by the government to ensure the successful spread of these technologies. "The pace at which government is facilitating can improve but there is certainly a desire to bring change" stated co-founder Farmdar Muzaffar Manghi.
He advocated for a government task force of industry experts and permitting the access of agricultural land records to the deep-tech agricultural ventures which are aiming at revolutionizing this space for 70% of our population.
Talking about the challenge of mass adoption he said, "Even if we successfully get 5% of farmers in an area on board and deliver them value, that snowball effect will trickle down".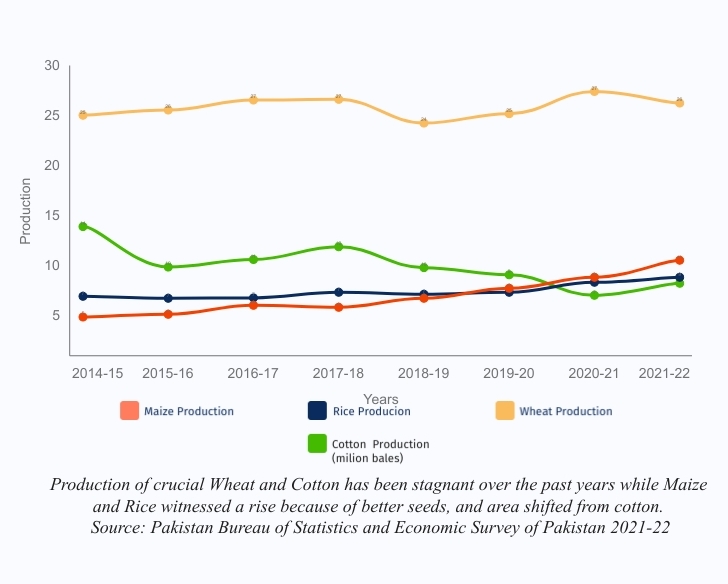 Coming to universities, especially agriculture-related institutions, the encouragement and learning towards approaching these new technologies is non-existent.
If a fresh graduate is spending four years without familiarizing himself with the most up-to-date developments in the field of agriculture, we should not expect progress to happen out of the blue.
There has been almost no curriculum, partnerships, or seminars regarding Agritech in even the top Agriculture institutes across the country despite the extensive presence of very distinguished scholars and academics in the departments.
Partnerships between Agritech startups and conventional agriculture companies on the supply side are also an important avenue to explore but despite the need of the hour, such joint ventures would be rare considering the primary goals of both sides are different. "Partnerships with the private sector are not that straightforward as these businesses aim at increasing their customer demand while we strive toward their less efficient use" commented Faisal Bilal from Growtech.
The most enduring challenges the eCommerce startups are facing in this regard are the fragmented supply due to small land holdings in addition to the already discussed lack of technical literacy and trust for new companies and technologies, said Muhammad Mustafa, co-founder of EasyFresh.
EasyFresh operates in the B2b space, supplying fresh produce from farm to retail aiming at reducing an estimated 35% wastage that occurs in post-harvest operations across the country.
This venture also aims to work on processing and value addition to raw produce in the future. "Pakistani consumers are also a bit more price-sensitive compared to other countries where the consumer understands paying extra for the comfort and time saving that comes with online shopping" stated Muhammad Mustafa.
He also advocated for the import of Agri commodities from India so flood-ridden markets can be stable and farmers can direct their energies toward more important crops.
Abrar Bajwa, Co-founder of Tazah Technologies on the other hand argued that such decisions must not be based on short-term necessities as it would be 'equivalent to discouraging farmers that take the most risk in the supply chain'.
Tazah Technologies is not your typical eCommerce platform run, they provide SaaS products (software as a service) that connect crucial value chain players through three verticals.
Farmers to retailers, Input producers to Input suppliers, and domestic suppliers to international businesses as well, fundamentally digitizing the whole supply chain.
He stated that they carved this idea as he believes an ideal Agritech startup would endeavor to ensure the 'supply chain works well in itself' instead of disrupting the already established small entrepreneur in local markets.
Another thing both entrepreneurs agreed on was the point that for real change and progress, the government has to keep its involvement as little as possible apart from the policy side where it should only act as a facilitator.
The bottom line is that while Agritech startups are rapidly exploring every major avenue of the agriculture supply chain, the change is an evolutionary process and going to take some time.
What we need from the government is to create a favorable business environment, reform university curriculums, digitize the farmer databases, subsidize these technologies and facilitate the ruling communities so that mass adoption can occur swiftly.
Read more on Agritech: