Tracker
Top places to donate for flood relief in Pakistan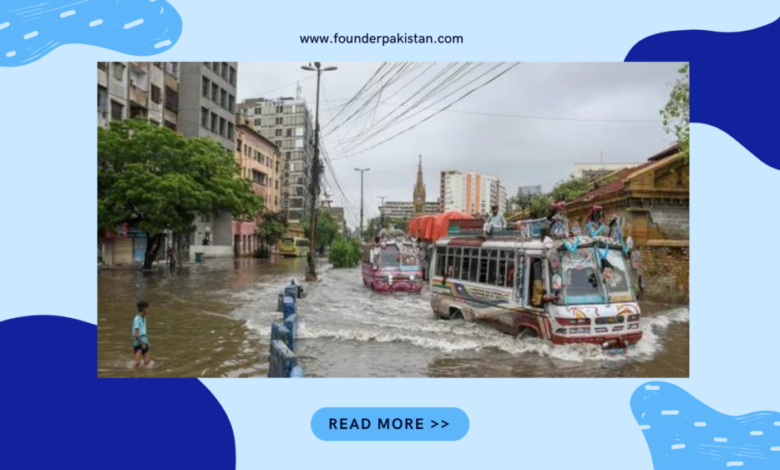 The Pakistani government has described the monsoon rain-caused floods as a "climate-inducted human calamity of massive proportions" with the death toll at 937 and still rising. The floods have wreaked havoc, leaving 30 million people without homes.
We will be updating this list with all the relevant sources where you can donate for flood in Pakistan.
Many non-governmental groups and the provincial and federal governments are making significant efforts to help individuals affected by the disaster. They will take both monetary and in-kind donations as forms of assistance. Here are top places to get in touch with for flood relief efforts:
Edhi Foundation
Edhi Foundation Pakistan flood relief teams are on the ground in all flood-affected areas across Pakistan. They have been rescuing people and providing relief including cooked food, dry ration packs, tarpaulin sheets, medical aid, and other non-food essential items.
Pakistan Poverty alleviation fund
Pakistan Poverty Alleviation Fund (PPAF) is an apex institution for community-driven development and poverty alleviation.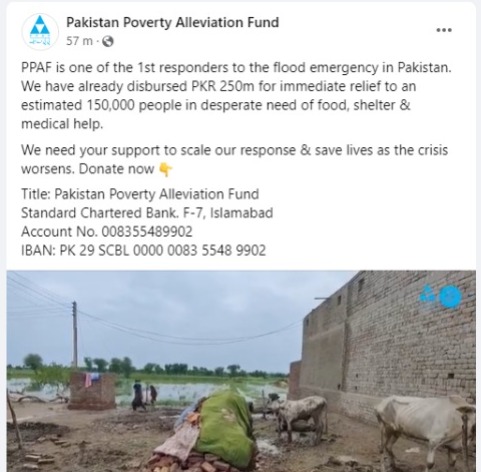 Balochistan Youth Action Committee
Hi, many are asking how can you support BYAC in the flood relief drives.

Here is how:

1- Send in-kind donations to our centres.

2- Monetary support
3- Amplify our voices
4- Volunteer with us and visit those areas @BanariMengal @sikanderbizenjo @Khalidismaill pic.twitter.com/E7DvURUvYj

— Balochistan Youth Action Committee (@BYACBalochistan) August 23, 2022
The organization is committed to helping a "vulnerable" Balochistan in these challenging times. Here is how you can help. A list of urgent supplies has been included for donations.
HANDS is an NGO which has been working for "a healthy, educated and prosperous Pakistan" for the last 42 years. They are extending a hand to those impacted by the flood and don't even have the basic necessities at the moment.
The floods in Sindh, Punjab and Balochistan have taken many lives, homes and livelihoods of people. They need your urgent and help and support.

Donate now!
For direct deposit visit: https://t.co/MJ23sPtrkO
To donate online: https://t.co/mae9ogODBd
Or, contact: +92-346-111-777-1 pic.twitter.com/XdDvoMEoij

— HANDS (@HANDSPakistan) August 24, 2022
Alkhidmat Foundation Pakistan
Alkhidmat Foundation Pakistan is a nonprofit organisation dedicated to humanitarian services since 1990. Alkhidmat workers and volunteers continue to work for the relief of affected people across Pakistan and worldwide. Their dedicated services include disaster management, health services, education, orphan care, clean water and other community services.
𝐏𝐚𝐤𝐢𝐬𝐭𝐚𝐧 𝐅𝐥𝐨𝐨𝐝𝐬 𝐄𝐦𝐞𝐫𝐠𝐞𝐧𝐜𝐲 𝐀𝐩𝐩𝐞𝐚𝐥!🦺🌧️ #Alkhidmat is on a mission to rescue flood affectees providing tents, food & medical camps while our Volunteers are going beyond every limit to help affectees.
Join us too by donating 👇https://t.co/GzZrsTWRU9 pic.twitter.com/n6YkM49ATq

— Alkhidmat Foundation Pakistan (@AlkhidmatOrg) August 23, 2022
Women Democratic Front
Women Democratic Front and AAM are supporting the efforts to raise funds for the flood affectees across the country. Their work is focusing on the worst affected areas, in collaboration with local youth.
Muslim Aid UK
Muslim Aid is an international NGO committed to improving the lives of others, regardless of their own faith and/or political persuasion. It has started its rapid need assessment in three flood-affected districts in Pakistan.
Heavy downpours have triggered floods in more than 50 districts of #Pakistan.

The monsoons have damaged entire villages, killed more than 500 people & affected millions.

Please help #MuslimAid respond to this emergency.

Contribute now – https://t.co/abYfKagCIM. pic.twitter.com/8vLgSOnF8d

— Muslim Aid UK (@Muslim_Aid) August 18, 2022
JDC Foundation Pakistan
JDC Foundation Pakistan is a charitable and non-profit organization that deals with liberation and rescue management all across Sindh.
Akhuwat
Akhuwat, in line with its philosophy of 'Mawakhat' is keen to support all those who are affected badly by the recent floods. To help provide immediate relief to thousands of deserving individuals and families stranded in floods, Akhuwat has set up a Flood Relief Fund.
MTJ Foundation
The Maulana Tariq Jamil Foundation is working to provide flood victims with food, medicines, clothes, tents and other basic necessities.
Saylani Welfare Int. Trust
Saylani Welfare International Trust is an NGO focusing primarily on feeding the poor and homeless. It has been working for the last 22 years to improve the conditions of the less privileged, helpless, and handicapped individuals. It is working on helping as many flood affectees as it can.
Indus Hospital and Health Network
Indus Hospital and Health Network provides quality healthcare, free of cost to millions of patients across Pakistan. IHHN is a not-for-profit healthcare system that solely relies on public donations. It is accepting both cash and in-kind contributions.
Shahid Afridi Foundation
The Shahid Afridi Foundation under its Emergency Relief Response project is leading in providing support to flood affectees in Balochistan and Sindh. The drives will provide the affectees with food (wheat, rice, oil, grains, sugar, cooking oil, and salt), tents, and other essentials such as blankets and clothes.
Hadiqa Kiani's Vaseela campaign
Singer-songwriter Hadiqa Kiani's Vaseela campaign is on a mission to extend as much help as possible to the people devastated by the floods. She shared a list of needed items and asked fellow Pakistanis to contribute.
Balochistan University of Information Technology, Engineering and Management Sciences (BUITEMS)
BUITEMS is holding a flood donation drive you can send your contributions to.
"No one has ever become poor by giving"
Let's extend help and support for the flood victims! pic.twitter.com/YwiJNwIVTc

— BUITEMS (@BUITEMS_edu) August 24, 2022
Million Smiles Foundation
Million Smiles Foundation aims to ensure healthy living conditions and promote well-being at all ages as it is essential to sustainable development.
DONATE NOW even Rs. 100 to share your Smiles with Humanity!!

The "Flood Affectees" NEED YOU. HELP your brothers and sisters in dire needs. YOUR little contribution will mean a Million to them.

YOU CAN… It's NOW when they need you the most.#FloodRelief #Humanity #DonateNOW pic.twitter.com/yNpHoDjiCA

— Million Smiles Foundation (@MSfoundationPK) August 26, 2022
Sindh Rural Support Organisation
Sindh Rural Support Organisation is a nonprofit NGO that wants to improve the quality of life of the "rural poor" in Sindh. They are using resources they have available at hand but it's not nearly enough for what is needed. There is an urgent need of ration, cooked food and tents in these areas.
Roshan Pakistan Academy
Roshan Pakistan Academy is located on the outskirts of Karachi and serves marginalised communities along the border between Sindh and Balochistan. It is committed to facilitating the development of people from the lower socioeconomic backgrounds.
Sahara For Life Trust
Sahara For Life Trust is a not-for-profit, registered tax exempted charity, dedicated to providing quality healthcare, education, and social services. With all of its resources, Sahara for Life Trust will distribute relief goods and conduct medical camps.
Jahandad Society for Community Development
Jahandad Society for Community Development 20 years ago as a non-profit NGO registered with the Department of Social Welfare, Women's Development and the Bait-ul-Maal, Punjab. It is accepting donations to help the flood affectees.
For the flood affected from Balochistan #PakistanFloods pic.twitter.com/RC6tEoIdwD

— Dr. Yasmin Rashid (@Dr_YasminRashid) August 25, 2022
Alamgir Khan, a PTI MNA, is the founder of Fixit, a non-profit organisation. Fixit is accepting contributions to help provide those affected by floods with food and shelter.
صاحب استطاعت افراد سے مدد کی اپیل#FloodinPakistan pic.twitter.com/C33Sydwogk

— Alamgir Khan (@AKFixit) August 26, 2022
Governments
Government of Pakistan
The Government of Pakistan has notified the establishment of a flood relief fund, the Prime Minister's Flood Relief Fund 2022, to provide relief and rehabilitation to the affected population due to torrential rains and flash floods in many parts of the country. The Fund shall accept donations/contributions both from domestic and international sources.
All commercial and microfinance banks are to open the account of the Fund and can receive donations/contributions in cash, through cheques, payorder and demand drafts, at all their branches across the country.
The PTA has also introduced the convenience of making a donation virtually.
📢 PTA has allocated short code: 9999 to enable #mobile subscribers to donate to 'Prime Minister's #Flood Relief Fund 2022'.
Users can donate Rs. 10 by typing 'fund' in #SMS option and sending to 9999.

— PTA (@PTAofficialpk) August 26, 2022
Government of Balochistan
According to the instructions of Balochistan Chief Minister Abdul Quddus Bizenjo, a fund has been created for those affected by the flood. Donations can be made to any branch or office of the State Bank of Pakistan and the National Bank of Pakistan.
حکومت بلوچستان کا بارشوں اور سیلاب سے متاثرہ افراد کی امداد و بحالی کیلئے امدادی فنڈ قائم pic.twitter.com/DjzkoKWBxz

— Govt. of Balochistan (@dpr_gob) August 25, 2022
The Sindh government has started the Sindh Flood Relief Fund for people affected by flash floods across the province. Additionally, it said one-month's net salary of the chief minister, provincial ministers, MPAs belonging to the PPP, CM's advisers and special assistants, and parliamentary secretaries would be deducted and added to the fund.
آئے ہم سب مل کر اس آفت سے نکلنے کیلیئے حکومت سندہ کا ساتھ دے@fawadnb @SyedNasirHShah @sharjeelinam @HullioSikandar @zulfaqar66 @RabNBaloch @AzazSyed @SdqJaan @MAyyazKhanNiazi @IamHaiderSN pic.twitter.com/ntVyt2HKku

— Sarang latif chandio (@LatifSarang) August 25, 2022