Featured
Why is Shopify closing third party payment providers in Pakistan?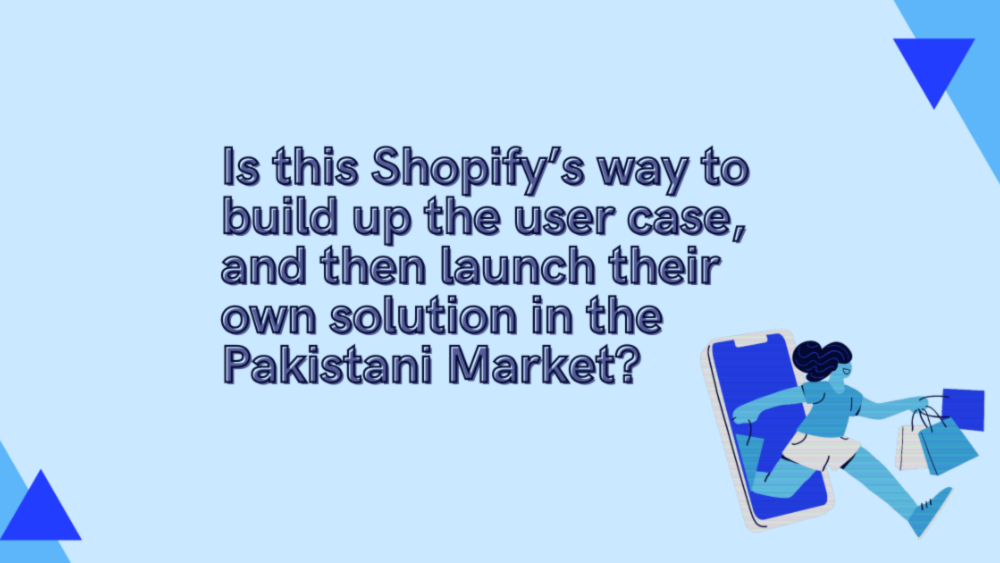 Is this Shopify's way to build up the user case, and then launch their own solution in the Pakistani Market?
_
Shopify is a global eCommerce enablement platform with over three million online stores currently active on its platform. According to Builtwith, around 3,744 websites in Pakistan use Shopify as their chosen platform to sell online. In Pakistan, there are some local players that are working to build the next Shopify that caters specifically to the local Pakistani Merchants.
According to Statista the total market revenue in the eCommerce market is currently $7.6 Billion, A 90% increase from 2020 when the total eCommerce sales stood at a mere $4 Billion after the Covid 19 boom which nearly doubled the eCommerce revenue from the total market revenue in 2019 which was $2.1 billion only.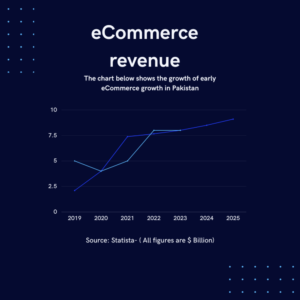 eCommerce in Pakistan has been facing challenges since its inception, the main thing about a developing country is that it always gets the latest trend in its market for e.g during Covid 19, q-Commerce rose up in the market even though eCommerce in Pakistan still has inefficiencies. This gave a rise to 10 minutes deliveries which were offered by some of the players, but the same players took the USP out of their marketing campaigns when they realized the Market demand is something else.
(How to Hack) E-com Deliveries Pakistan Edition🧵

Problem Statement:
1)Poor Logistics Service
2)Pricing Wars/Service Level Disasters
3)Lack of real tech
4)Geographic spread
5)Double Sided Low Trust
6)Lack of Data/Transparency
7)Payments
8)Boomers
9)Hipsters
10)Outsiders

— Faizan Siddiqi (@faizansiddiqi) May 17, 2022
One of the major inefficiency in the eCommerce ecosystem of Pakistan is payments according to research by bSecure, 79% of the online buyers prefer paying through Cash on Delivery (COD) which is because of certain reasons e.g lack of trust with pre-payments in Pakistan. Due to this eCommerce ecosystem had to adapt to the market needs, e.g in the Mobility sector the boom of Careem was because of the cash payment system incorporated according to the market dynamics, recently in the mobility sector the market demands have shifted hence In driver is now dominating and providing a challenge to Careem in its own ball game.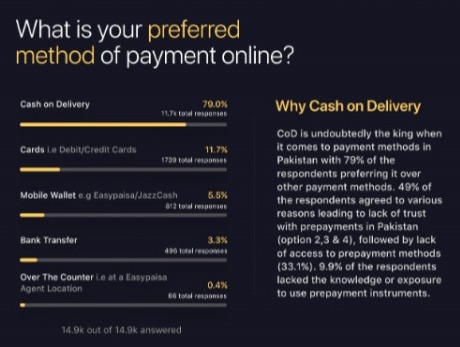 The main issue with COD is that it's very inefficient for the merchants and increases the timeframe of cash payout to the merchants by their logistic companies which are usually around 14 days, the main beneficiaries are the logistic companies who earn a fat stack through arbitrage. Recently there are some Logistics companies launching a claim to lessen this timeframe for e.g PostEx. On the online payment and checkout side, there are some players too who are planning to disrupt the online payment space through their checkout solutions for e.g bSecure and SafePay to name a few.
Recently an announcement was made on Shopify's community discussion forum about changes to third-party payment providers. "Shopify has been working with third-party payment providers to ensure their services are updated to work with the new Shopify checkout. As of July 31st, payment providers who have not updated their integration will no longer be available on your online store", the announcement mentioned.
Even on a platform like Shopify merchants face issues with their payment integration a merchant's comment on Shopify's forum tells the story of the maddening payment experience faced by merchants. "It's been 9 days since I started my very first Shopify store and I can't even run it successfully. Turns out, that payments are the only, ONLY issue that I'm facing. I'm so stressed because of the payment problems in Pakistan. Why can't we have Shopify Payments enabled? I don't understand. And third-party providers are driving me crazy", a merchants tale on the Shopify forum.
The main reason behind this update can be to move towards a unified payment ecosystem and the updates can be one of the steps to move toward launching Shopify payments in Pakistan. " This is not anything new that Shopify is doing. They announced this change in early 2020 and have even extended the deadline twice to give both gateways and merchants time to switch over to their new technology ", Adam Dawood, CEO, bSecure while to Founder Pakistan. 
From a merchant's POV Dawood, believes that merchants will not face any issues as long as they update to the latest payment version, he also believes that the new version will be faster and more secure.
There are a lot of benefits to merchants if Shopify payment launches in Pakistan, while speaking to Founder Pakistan, Khawaja Muhammad Tayyad Zahid, CTO Alchemative mentioned, " They are closing 3rd party payment plugins and enforcing them to become a Shopify payment partner."
If 3rd party payment providers are enforced to become Shopify Partners, this paves the way for the launch of Shopify payments in Pakistan which means Shopify will be able to collect a cut/fee from:
 payment partner
merchant
logistic partner
Considering that Pakistani eCommerce sales will reach a total of $9.1 billion in 2025 this seems like a step for Shopify to sow the seeds for future revenue from Pakistan. As the eCommerce ecosystem develops in Pakistan one of the major beneficiaries of this can be Shopify itself. Recently Shopify's total share price collapsed to $34 because of the recent stock split.
Shopify stock collapses more than 90% to $34 as investors realize a company that powers teenagers to sell custom hats on the internet isn't worth billions of dollars

— Dr. Parik Patel, BA, CFA, ACCA Esq. (drpatel.eth) (@ParikPatelCFA) June 29, 2022
It's hard to say if the Pakistani market will ever put a huge inflow to the eCommerce enablement giant revenue stream however this recent move to pave the way for Shopify Payments proves that Shopify has woken up and realized Pakistan can be a good market perhaps.
"In a market where online payments are less than 10% of all transactions, such a decision from a major e-commerce platform can further limit accessibility to payment gateways for Pakistani businesses. Leading providers such as JazzCash and Alfalah Payment Gateway (APG) are yet to upgrade their versions as per Shopify's requirements. In the meanwhile, businesses can minimize the effect of this decision on them by configuring multiple payment providers on their stores still supported by Shopify (such as bSecure).", Saad Mughal, Co-founder, AlphaVenture.
It's tough to predict if this is a good move for Shopify, but it seems like it's at the right time as the Global giant faces competition from local eCommerce enablement platforms that are looking to disrupt niches still un-explored by Shopify in Pakistan.