Tracker
Recruitment startup Bhartee partners with China's HXZA Group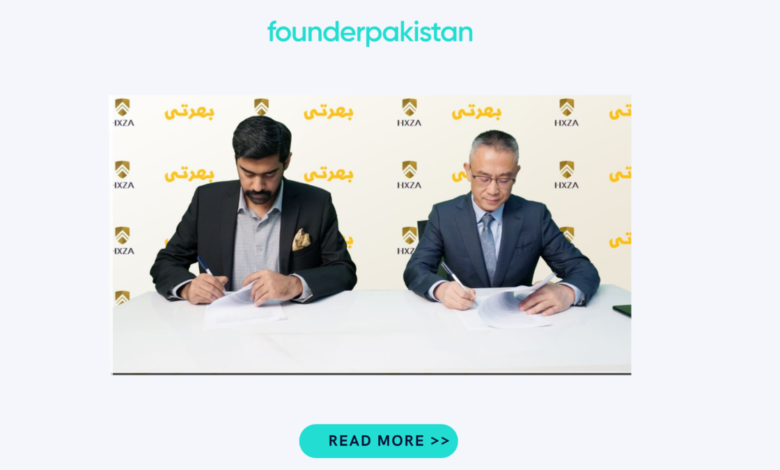 Bhartee and HXZA Group held an MoU Signing ceremony in Islamabad for mutual collaboration in recruiting Pakistani manpower for Chinese projects globally. This partnership aims to provide easy access to skill-matched & background-screened workers for Chinese projects in Pakistan & abroad.
Bhartee's Digital Platform & Integrated services suite allows greater recruitment efficiency, easier access to talent, and rapid case processing, increasing the overall viability of Pakistani manpower over other nationalities in the region.
Bhartee was founded in May of 2022 by Bazigh Kiani, Zil.E. Batool, and Adeel Ahmad the young startup aims to democratize 100 million skill-based Pakistani manpower, Bhartee aims to connect the workforce with opportunities in Pakistan and Abroad.
HXZA is one of the top manpower service providers from China having around 35,000 employees and operations in China, West & East Africa, Middle East & South Asia. Through this collaboration, HXZA & its global clientele could quickly fulfill vacant roles in their workforce using Bhartee's digital platform and 360-degree recruitment services.
Speaking at the event, Mr. Liu Qing, Director of International Business of HXZA expressed his views: "Our strategic partnership with Bhartee would allow us to connect Pakistani manpower with opportunities in Chinese projects in Pakistan and globally. The amount of efficiency this system enables was not possible for us in the past. But now we can recruit workers through Bhartee's digital platform and perform background screening & verifications all through a few clicks. This brings more speed, confidence & trust in the whole process. We are pretty sure that Pakistani manpower & market has great potential. Through this partnership, we will have easy access to local talent to help with bridging the cultural and language barriers so we can have fast-paced growth, together."
CEO and Founder of Bhartee, Bazigh Kiani explained his passion for what is termed as "Democratizing Recruitment ": "Bhartee was born from the idea to solve recruitment for Pakistan's huge labor force. The potential & possibilities are limitless. Simply put, Bhartee's aim is to onboard our workforce on the Bhartee platform, and connect them to better, more rewarding, skill-matched employment opportunities. Our goal is to reduce inefficiencies in recruitment, end to end, and create a positive impact with upwards social mobility for the masses. We have only gotten started, there's a lot more to come in the next couple of weeks as we race ahead in our mission to Democratize Recruitment".
Pakistan's economy created 5.5 million jobs during the past three years –on an average of 1.84 million as per data from the Pakistan Bureau of Statistics, a recent trend shows a rise in recruitment-focused startups launching with each of them focusing on a certain niche.
–