Tracker
Krave Mart onboards Ekaterra on its advertising platform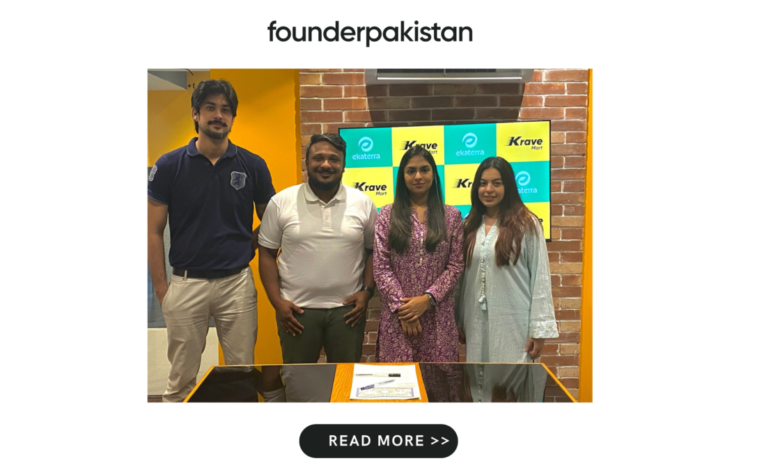 Krave Mart, a qCommerce grocery startup from Pakistan has on-boarded Ekaterra, a holding company for tea brands such as Lipton, Brooke Bond Supreme, and Pearl Dust on its advertising platform.
The announcement was made by Krave Mart on its LinkedIn page, the post also mentioned that both companies have signed a three-month-long agreement, and the partnership between the two brands will help in increasing the visibility of Ekaterra brands and also help Krave Mart with its brand equity.
Lately, a trend of consumer apps in Pakistan launching their advertising verticals can be noticed, In March last year, Careem announced it was partnering with Lambda Marketing Solutions to launch a digital out-of-home (DOOH) ad platform. A year later, Swvl began to offer out-of-home (OOH) advertising placements on its vehicles.
After Foodpanda successfully sold its own media inventory to willing advertisers, intent on driving clicks to their Pandamart listings, Krave Mart followed suit. Understanding that the path of winning in this space is direct reseller deals with the largest media agencies, Foodapanda locked GroupM in the region while the Delivery Hero-owned marketplace works with Brainchild in Pakistan, as its media agency.
Industry experts while speaking to Founder Pakistan mentioned, Any additional revenue stream and growth avenue must be capitalized in the low-margin and often unprofitable world of technology products and marketplaces.
The addition of advertising as a business unit is often seen in the product roadmap of technology-enabled companies, capitalizing on either their traffic or offering advertisers a chance to direct traffic toward their owned sites or their listings within a marketplace.
While speaking to Founder Pakistan, Bilal Safder Head of Ancillary Business at Krave Mart mentioned,
Krave Mart offers advertisers two avenues within Krave Ads:
Online (in-app brand visibility via assets like home page banners, category icons, swim lanes, splash screens, product boosting, and check-out videos)
Offline assets give brands visibility on shopping bags, inserting their brochures or samples within the shopping bags, or placing their brand logos on the helmets or delivery bags of bikers who they call rockstars.
He also added that the Krave Ads team has worked on/ currently working on campaigns for brands like:
Blue Band
Unilever
National Foods
Coke
Pepsi
Lipton (Ekattera)
NBP Funds
Muzz
RB
GSK (Sensodyne)
Hilal Care
As companies are looking for new avenues of advertising, consumer app platforms like Krave Mart and others offer an exciting opportunity for advertisers to explore, advertisers of consumer brands also have the option to run conversion-oriented campaigns on these platforms.
–