Featured
For Pakistan, the show must go on: Part 2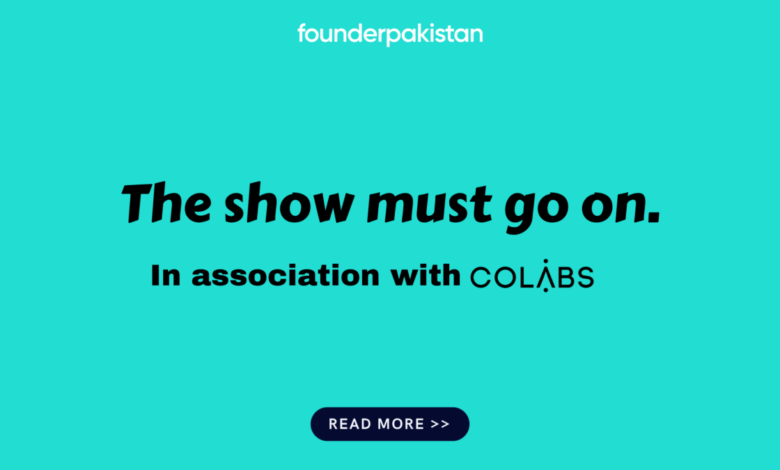 Pakistani startups just reached a new funding milestone of $331 million in the first three quarters. Just $19 million shy of the $350 million raised in 2021.
Funding updates September:
SnappRetail, based in Karachi, recently completed a $2.5 million pre-seed funding round led by Zayn Capital's BitRate Fund, with Antler and Century Oak Capital also participating.
Neem raised $2.5 million in seed capital from renowned global and local fintech investors. This will enable Neem's one-of-a-kind embedded financial platform and advance the company's aim of providing Financial Wellness to Pakistan's underbanked communities, including individuals and companies.
Headlines for September:
In September, we only saw two funding deals as compared to the 7 funding deals in August. The end of September also marks the end of the 3rd quarter.
Here is an overview of what happened in the ecosystem in the 3rd Quarter!
Deals (Combined):
24SEVEN announced a $6 million pre-Series A to focus on their B2B and B2C segment.
Linkstar, an AI-powered web space that enables freelancers and influencers to sell D2C services via payment and social media integrations raised a pre-seed round at a $5 million valuation from SOSV, a US-based venture capital firm.
Antler-backed Raabta Tech launched in Pakistan. Judging by Antler's average cheque size the funding round was between $100k-150k.
Pakistan-based Dbank has raised the nation's largest seed round of $17.6 million. The seed round was co-led by Sequoia Capital Southeast Asia and Kleiner Perkins, Digital banking platform Nubank, RTP Global, Rayn Group, and Askari Bank a local bank in Pakistan.
DealCart, a social commerce startup based in Karachi, Pakistan raised $4.5 million in pre-seed funding. The round was led by Shorooq Partners with participation from Fatima Gobi Ventures, Vibe Capital, 500 Global, i2i Ventures, Julian Shapiro, Rally Cap Ventures, and Alex Lazarow, and several "strategic angel investors."
Pakistan-based OneLoad raised $11 million to fund growth initiatives. The investment round was led by Sarmaycar and Shorooq Partners, a leading Abu Dhabi-based venture capital firm, and participation from Bill and Melinda Gates's strategic investment fund.
Orbit-Ed, an AR startup based in Islamabad, raised $500k in a pre-seed round led by Boost VC, bringing their total pre-seed funding to $800,000.
As first reported by Deal Street Asia, Remoty a cloud-based saas startup in the human resources industry has raised an undisclosed amount in angel funding. Investors in this angel round include Deosai ventures, executives of Google, Repairdesk founder Usman Butt and US-based payroll and compliance provider Deel.
Pattern, a Lahore-based startup has raised a Six-figure round led by Deosai Ventures, other investors in the round included Sabr Capital, Arbisoft, and strategic investors from Singapore, MENA, Europe, and the UK.
Mahaana wealth bags $2.1 million in pre-seed funding, Investors in the round included Swedish investment firm Vostok Emerging Finance, SparkLabs Group, and regional strategic partner IGI Holdings led Mahaana's pre-seed financing (JV Partner of Nestle in Pakistan).
PriceOye.pk, a Pakistani eCommerce platform, announced it has raised $7.9 million in a seed funding round led by US-based JAM Fund.
SnappRetail, based in Karachi, completed a $2.5 million pre-seed fundraising round led by Zayn Capital's BitRate Fund, with participation from Antler and Century Oak Capital.
Neem raised $2.5 million in seed capital from renowned global and local fintech investors. This will enable Neem's one-of-a-kind embedded financial platform and advance the company's aim of providing Financial Wellness to Pakistan's underbanked communities, including individuals and companies.
Krave Mart a qCommerce startup from Pakistan recently made it to Y Combinator batch 2022, judging by YC's usual cheque size the funding will be $500k.
Safepay raised an undisclosed Pre-series A round from i2i Ventures.
Muawin a B2B BNPL player raised an undisclosed seed funding round from OLP Group.
Emerce.pk a fashion eCommerce store was acquired by Bagallery for an undisclosed amount.
Call courier a legacy logistics player was acquired by PostEx.
Nearpeer an Ed-tech startup raised an accelerator round of $150k from SOSV.
DevOps Pakistan, a dedicated community for mentoring DevOps aspirants and building opportunities for DevOps professionals was acquired by UAE-based TecBrix for a figure of $1 million.
VentureDrive, a prominent global full-service technology firm that has worked with clients such as Careem and Tez Financial services, announced the acquisition of NexDegree, a data products and solutions firm.
Insights:
The 3rd quarter of 2022 was eventful we saw startups such as Airlift, Car first, Vavacars, and Yayvo shut down. This quarter was also one of the lowest in startup funding figures with total funding of $55.5 million in total funding with 22 deals in total. Out of the total deals, 8 of the deals were in the eCommerce sector followed by 7 deals in the Fintech sector, and the remaining were in other sectors.
We also saw different acquisitions this quarter out of the 22 deals this quarter four of the total deals were acquisitions. We saw exciting developments such as the acquisition of Cloudways by DigitalOcean for $350 million and the Revolving game's funding of $13.2 million both of these companies have Pakistani origins in common.
The top local investors for the first three quarters according to several deals: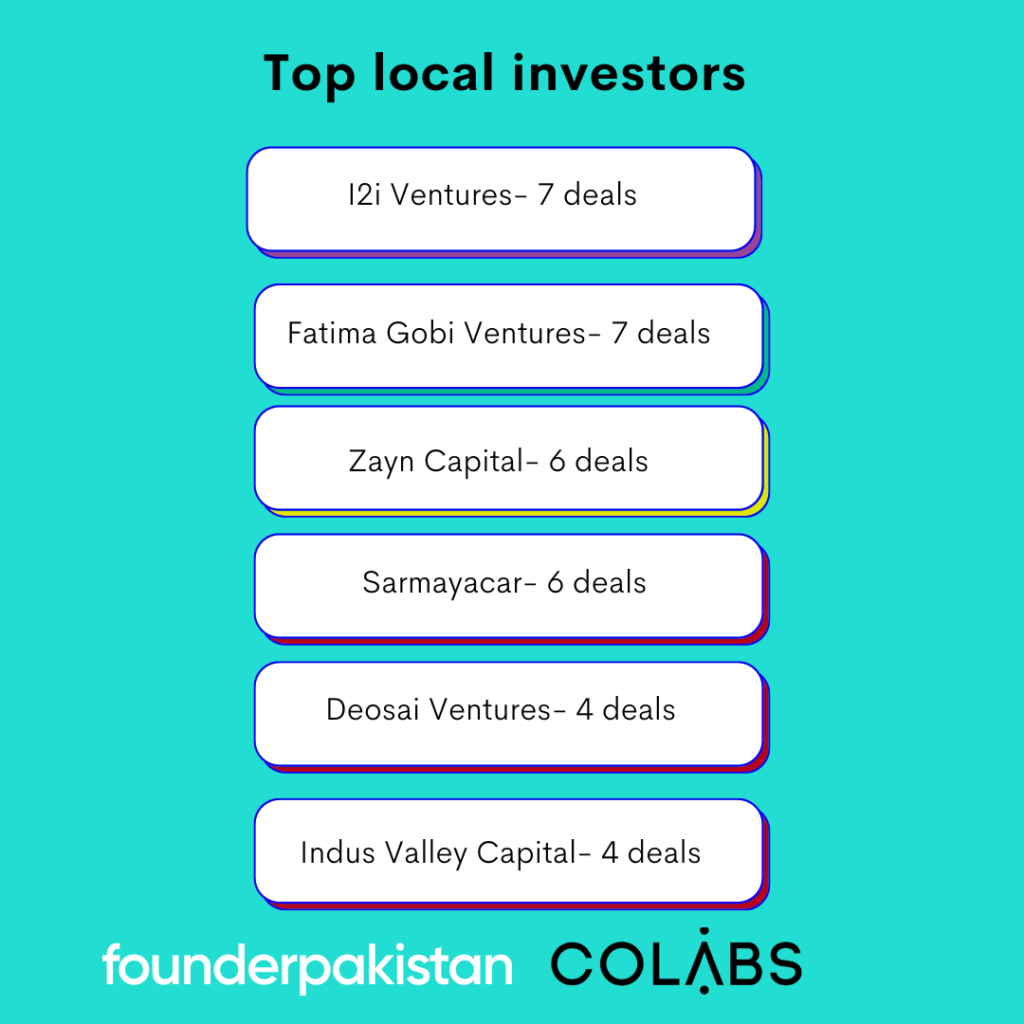 The third quarter was also challenging because of the recent floods in Pakistan and because of this development inflation shot up to 25%. The slowdown in funding was because of various reasons one of them including the global funding downturn making its way towards the nascent ecosystem of Pakistan.
Some insights from Faisal Aftab the Partner at Zayn Capital in conversation with Founder Pakistan help us see why there is a slowdown in Funding. A little over a year ago, at the World Bank KP Tech Summit, Faisal Aftab offered a prediction that drew the acrimony from Pakistan's unrealistically optimistic start-up ecosystem stakeholders. He simply said that 2022 would be the year of a strong US dollar and high energy prices, which in turn would impact investments, savings, inflation, spending power, and possibly trigger inflation.
"My speculative belief is that the Federal Reserve will have to cut rates otherwise the US economy will collapse," said Aftab, in an interview with Founder Pakistan. "So that will again create a risk-on global environment. We are in a monetary system transition and technically WW3, which is a non-kinetic monetary and financial war between the West and East – paper vs commodity-backed."
He expressed concern that since currency reserves accumulated by central banks can be taken away, weaponizing the monetary system will have lasting repercussions, such as ending the PetroDollar monetary system. This, among many other reasons, explains why China is so hell-bent on the digital yuan.
He predicted that valuations will come down as less capital will be coming to frontier markets, adding that investors that back strong companies with good founders will make good returns over a 10-year curve. But incremental capital will be scarce until Federal Reserve cuts rates – usually with a 6-month lag. He cautioned that any company with an investor's back should have a 12-18 month runway from today.
"i2i Ventures will avoid investing in cash-burn startups," said Misbah Naqvi, co-founder of i2i Ventures, during a panel discussion at the inaugural Happy Hour by Orbit Startups in Karachi. "We are sector agnostic and always look for disruptive opportunities early on. To me, it's more about founder-market fit as it's the leadership that navigates the startup out of the chaos in the early stages of building. Startups should focus more on retaining current users than increasing the burn on acquiring new users consistently."
"Last year I was in Vietnam and I noticed the valuation there is very low, as compared to a market like Pakistan which has higher valuations. My understanding is the high valuations in Pakistan are a result of US-led funding", said Jonas Eichhorst, founder of Tharros, a personal holding company focusing on investing and growing early-stage ventures.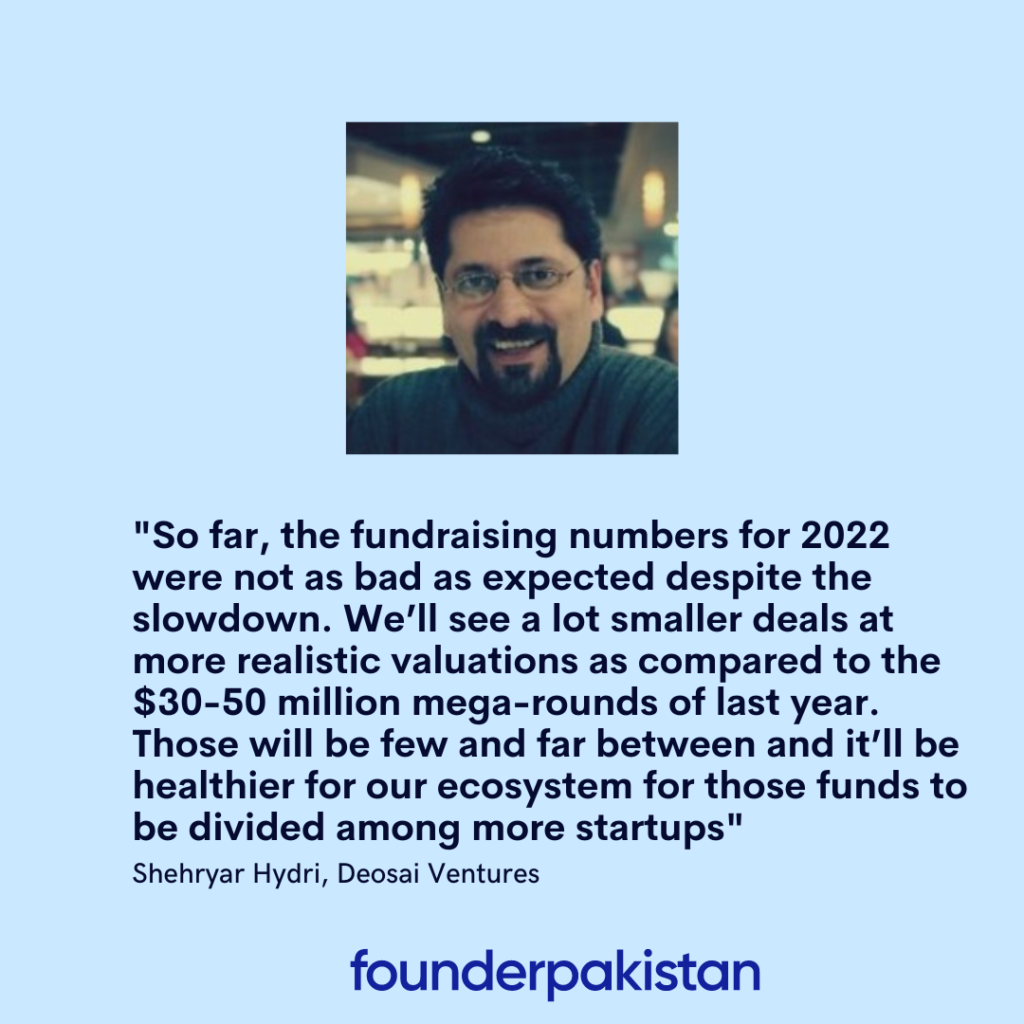 "After this new normal in terms of smaller rounds and valuations, we'll see companies focused on sustainable business models and unit economics rise as the most investable startups over the next 1-2 years. The smart teams will focus on building their product and cementing their product market fit during this downturn and they will find it much easier to raise larger rounds for their growth in 2023-24," mentioned Hydri.
"We will also see a lot more angel syndicates and family offices investing in a more structured way, taking advantage of this vacuum left by the retreating foreign funds. This is a great by-product of the current market conditions as this will fill a much-needed gap in early-stage investing in Pakistan," mentioned Hydri.
The future remains unpredictable for the Pakistani ecosystem but the future looks bright on the long-term horizon. Pakistan is still one of the markets which remains unexplored. Over this quarter we have seen funding in different sectors with eCommerce and Fintech leading the board.
The real opportunities are in the under-explored sectors such as Saas, HealthTech, Edtech, and Media. For the ecosystem to grow we will need developments in the most deserving sectors that have problems rather than made-up problems.
Pakistan has been through a tough time this year from political uncertainty to floods but the unwavering strength and vision of entrepreneurs will drive the future.
This unwavering strength and grit will make the future bright and aid in keeping the show going for Pakistan.
Sources utilized: Internal research, i2i Insights, Data Darbar, Pulse by Techshaw.